"I'm sorry, but you need capacity to execute advance directives." As I heard a sigh on the other end, I relived a painful scenario all too familiar to estate planning and elder law attorneys.  The dreaded conversation in which you have to inform an already overwhelmed individual that her family must go to court to have the court decide who will step into her shoes to make decisions for her because she can no longer speak for herself.
Conversations like these gave me the impetus to offer free community presentations and consultations across the Chicago-land area.  Just as I advise my parents, I also advise people that advance directives are an equally important part of their estate plan. It's become a personal mission to make this information accessible.
Estate planning and elder law are areas where misinformation spreads quickly.  The unfortunate consequence is that people do not take advantage of options they have until it is too late.  One common example is advance directives — that is, documents that an individual executes to choose who will speak for her in the event she cannot speak for herself. Advance directives typically consist of a power of attorney for property to cover financial, asset and real estate decisions; a power of attorney for healthcare to cover medical, end-of-life and burial decisions; and a living will.  With advance directives, you remain in control and determine what is best for you.
Advance directives are for everyone. That's right, everyone.  They are just as vital for the college student who goes away from home and wants to be sure mom and dad can access his medical records and make medical decisions for him should something happen to him as they are for the young couple who wants to make sure they are clear on who will step into their shoes to make decisions for them that could impact their children.  And of course, they are a major source of comfort and relief to young-at-heart who want peace-of-mind on Medicare, end-of-life planning and burial plans.
People frequently think that these documents take effect upon death, i.e., "my power of attorney is there to make decisions when I die." Not exactly.  Your agent under your power of attorney is there for you in your lifetime in the event that you cannot make decisions for yourself — that is, when you lose capacity. Here's a quick illustration of when you enter into advance directives and when they take effect: ​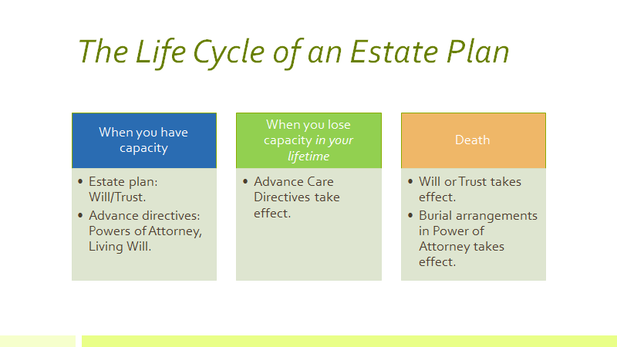 Capacity is required to execute advance directives. Once you lose capacity, you also lose the ability to execute advance directives. If you have lost capacity and do not have advance directives in place, then your family will be forced to go to court and seek a determination from the court as to who is the best decision-maker for you.
​
Frequently, people associate a loss of capacity with aging-related medical issues such as dementia or Alzheimer's. But there are unexpected scenarios that can also impact us cognitively, such as an accident, unexpected illness, etc.  This makes it critical to start on advance directives sooner rather than later. We may not be able to predict the future, but we do have the ability to prepare for it through advance directives.In my presentations and 1:1 sessions, here are some tips I provide:
​
1.         
Don't delay, start today
.  You must have capacity to execute advance directives.  Thus, the best time to make an advance directive is before you need one. Otherwise, you cannot guarantee that decisions will be made according to your values, priorities and preferences.
2.         Consider your needs comprehensively. Advance directives are best entered into when you have the time and energy to consider your needs comprehensively. They allow you to plan for various stages of life: going away to college, when you become a parent, when you start using Medicare or Medicaid and when you want to document your burial wishes. Planning ahead when you have the time to think will ensure that your directives are more robust.
3.      Select an agent you trust. Advance directives are about ensuring that your values and wishes are honored. Pick someone you trust to carry out your wishes. You can pick different agents for different directives, but make sure the agents work well together.  For example, your agent under your power of attorney for healthcare will handle medical care decisions, but your agent under your power of attorney for property will handle your medical bills.
4.         Be clear about the powers you are delegating to your agent. The range of decision-making you can delegate is broad — from making medical decisions to gifting your assets to assist with tax planning.  It is up to you to determine the scope of decisions your agent can make on your behalf. Be clear by recording any limits or additions in your advance directives.
5.    Choose the right attorney for you.  Advance directives involve discussions of family relationships, finances, and death.  So, choose someone with whom you feel comfortable disclosing these details. It's equally important to pick someone who has experience.  The directives are flexible and adaptable, so select someone who knows how to make them work best for you. As someone who has reviewed DIY powers of attorney gone wrong, I can tell you that the cost of an experienced attorney is much less than the cost of finding out these are invalid after someone has lost capacity.
Fundamentally, advance directives are about your autonomy and self-determination.  If you forgo this step in your estate plan, or handle it improperly and lose capacity, then your loved ones will be forced to go to court to seek the court's determination on who is best to make decisions for you. Most people aren't comfortable with that.
​
So, what are you waiting for? Get started now! If you need help with this, please feel free to get in touch by calling us at (312) 584-8852 or drop us an email.